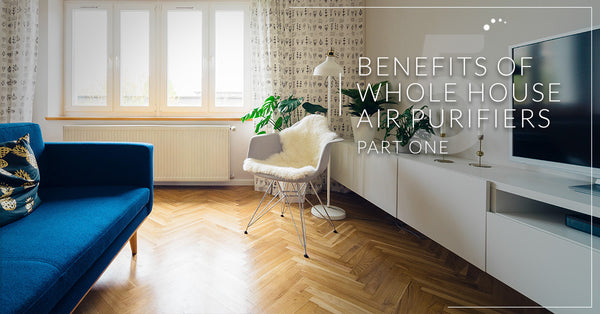 Benefits of Whole House Air Purifiers, Part One
Eco Probiotic Systems is proud to provide our customers with all-natural solutions for air purification, from our whole-house air purification systems to our probiotic-fueled air purification products. Using a whole-house air purification system comes with an array of benefits, and with green living being a major focus of the services we provide, in part one of our blog series we'll look at a few examples of how a whole-house air purifier can benefit you.



Extend Your HVAC System's Lifespan
While we've discussed many of the major benefits that having a whole-house air purifier can provide you with, one of the things that many tend to not realize is the effect that having one can have on your HVAC system. Whole-house air purification systems are designed to purify the air of your entire home, leaving you with air that's simply pure, fresh and clean. While this clearly has a variety of health benefits on anyone living in your home, human or otherwise, many have a tendency to think that the benefits end there. This isn't the case, and one of the many non-living things that benefit from a whole-house air purification system is your HVAC system.

Because whole-house air purifiers remove dust, debris and other allergens from your home's air supply, they also prevent these things from building up inside your home's HVAC system. From doing routine cleanings to regular maintenance, these sorts of impurities can directly contribute to the wear and tear on your HVAC system. By removing them from your home's air supply, however, you are also greatly reducing the amount of debris that starts to build up in your HVAC system. Because of this, having a whole-house air purification system in your home can aid in the extension of your HVAC system's overall lifespan.
Quiet Operation
If you suffer from seasonal indoor allergies, then chances are you've used a portable air purifier before. From the limited amount of area that it covers to the sometimes invasive designs, portable air purifiers come with an array of downsides. In some cases, portable air purifier can be noisy and distracting. Whether you're choosing to run them in a room in an attempt to reduce allergy symptoms while studying or in hopes of getting a good night's rest, the noisy operation can distract from this, effectively making the problem worse rather than better. Eco Probiotic Systems offer air purification systems that are far quieter than portable air purifiers, effectively removing dust mites, allergens and other impurities from your air in a way that is virtually silent. 
Reduce Unwanted Odors
Try as we might, there's only so much we can do to control the quality of air in our homes. Even if we keep a home that is spotless and odor-free, there are still other factors that that can otherwise disrupt our clean and healthy home. From the second-hand smoke of the outdoors to the inevitable interference of kitchen-related smells, there are many unwanted odors that are hard to avoid. A whole-house air purifier, however, can greatly reduce the presence of odors like these, ensuring that your home's air is fresh, clean and pure day throughout the day.


Invest in A Whole-House Air Purifier
Those are just a small handful of benefits that having a whole-house air purifier can provide. Whether you're someone who struggles with indoor allergies or you are simply looking to enjoy cleaner air in your home, Eco Probiotic Systems is proud to provide our customers with a variety of products to help improve air quality indoors. Best of all, it's done completely naturally, using probiotics as opposed to harsh chemicals. We will continue this in part two of our blog series, but to learn more about our air purification systems, contact Eco Probiotic Systems today!